46% Women Candidates, International Students, Part of 578 Students Inducted into IIMK Programmes; Draw Opening Lessons from Government & Corporate Top Guns
4th Jul 2022
Chief Guest Abraham Stephanos, Chairman & Managing Director, TATA STEEL Downstream Products Limited (TSDPL) & Guest of Honour Prashant Nair, IAS, Managing Director, Kerala Shipping and Inland Navigation Corporation address incoming cohort from 4 IIMK Programmes.

Total 578 students admitted: PGP (475), PGP-LSM (39), PGP-F (39) and DPM (Ph.D) (25) - programmes of the institute.

Additionally, 6 international students join IIMK PGP batch through GMAT and CAT

Overall gender diversity jumps to 46%, with PGP-LSM having maximum gender diversity at 69%, followed by DPM (PhD) at 48% and flagship PGP at 46%.

46% of the incoming MBA students are from a non-engineering background

39% of the MBA cohort from top colleges with NIRF rank below 30 and 21 % of are from the IITs/NITs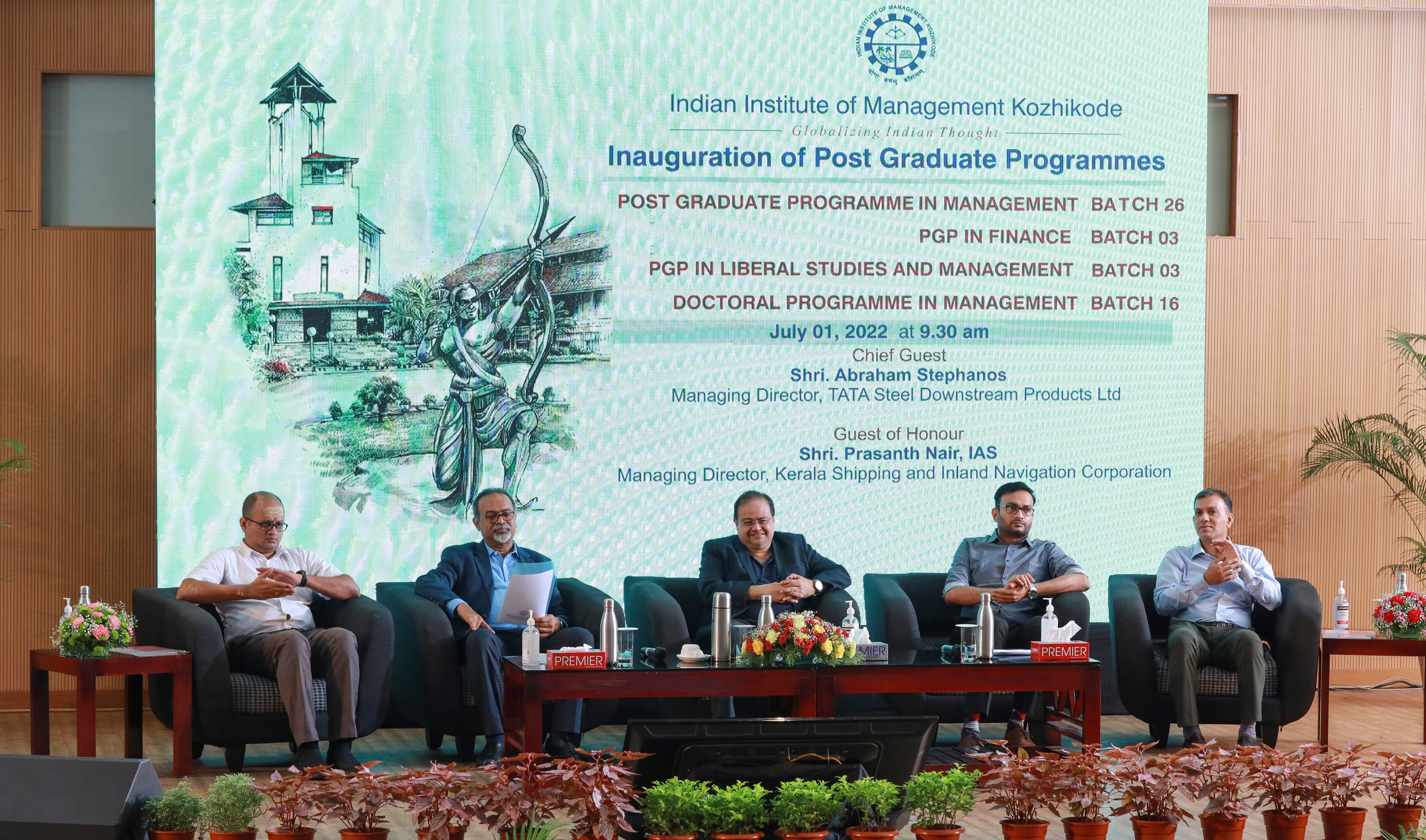 After a two year-long pandemic-induced hiatus, the Indian Institute of Management Kozhikode welcomed latest inductees of its flagship Post Graduate Programme (PGP) PGP-Liberal Studies and Management (PGP-LSM), PGP-Finance (PGP-F) and Doctoral Programme in Management (PhD); in a physical event held here in the campus. Mr. Abraham Stephanos, Chairman & Managing Director, TATA STEEL Downstream Products Limited (TSDPL) was the Chief Guest for the inauguration. Mr. Prashant Nair, IAS, Managing Director, Kerala Shipping and Inland Navigation Corporation was in attendance as the Guest of Honour along with Director IIM Kozhikode Prof. Debashis Chatterjee and IIMK Deans Prof. Shubashis Dey and Prof. G Sridhar.
The new inductees comprising of a total of 578 students have been admitted into the 26th batch of PGP (475 students), 03rd batch of PGP-LSM (39 students), 03rd batch of PGP-F (39 students) and 16th batch of DPM (Ph.D) (25 students) programmes of the institute. IIM Kozhikode, credited with many firsts has been at the forefront of achieving gender diversity and the story is no different this year too. For 2022, the above incoming batches comprises of overall 46% female students, up from 40% in 2021. Among the programs, PGP-LSM has the maximum gender diversity with 69% of the batch comprising of female students followed by 48% female candidates in the prestigious PhD programme and 46% female students in the flagship PGP programme. As a testimony to IIMK's growing global reputation 6 international students (4 NRIs, 1 New Zealand, 1 Nepal) were also inducted additionally to IIMK's flagship PGP programme.
Chief Guest Mr. Abraham Stephanos, Chairman & Managing Director, TATA STEEL Downstream Products Limited (TSDPL) in his address, encouraged students to make a positive difference to the society with their learnings at IIM Kozhikode. Emphasizing that success is all about collaboration and not outcompeting, he invoked students to build credibility, extend sphere of influence, continue their learning process and align themselves to IIMK's rich value system.
Mr. Prashant Nair IAS, the former District magistrate of Kozhikode city and a popular administrator who led many governance and people friendly initiatives in the city, stressed on the importance of human elements like creativity, originality, compassion, empathy as an ideal approach for managers of tomorrow in a growingly AI (Artificial Intelligence) dominated world.
Welcoming the latest entrants to the fastest growing IIM, Prof. Debashis Chatterjee, shared with the students key lessons they can derive from IIM Kozhikode's core belief system of Satyam (Truth), Nityam (Sustainability) and Purnam (Wholeness). Emphasizing on how authenticity of actions, coupled with clarity of thought and compassionate engagement can create a difference, he encouraged students "To not just be the best in the world, but be the best for the world."
Academic Diversity being another aspect of IIMK's pioneering interventions for B-Schools in India, this year witnessed about 46% of the students from a non-engineering background making it to this Top 4 IIM in India (NIRF 2021: Management). Among the programs, PGP-LSM has maximum diversity with around 94% from various disciplines such as Arts/Science/Commerce. With a healthy percentage of about 32% of the cohort being freshers, the heterogeneous cohort's average work experience for the students joining the program is 17.54 months. About 39% of the cohort are from Top colleges with NIRF rank below 30 and close to 21% of the incoming students are from the IITs/NITs. 11% of the students also have a professional certification such as CA/CS/CFA/FRM.